What is Behold?
Behold is a genealogy program for Windows that allows you to view and use all your genealogy data at once. You organize it how you want. You include what you want.
Behold's reads any and all GEDCOM files that genealogy programs produce. It does a lot of error checking and will help you find problems.
Behold's Everything Report lets you see all your data about everyone and how their lives overlap. Its presents your information to best help you analyze the evidence you've researched'.
Download Behold. Try it free for 45 days:
Available for Windows. Certified with 7.
Also compatible with 10, 8, Vista, XP, NT, ME, 2000.
On a Mac, use a Windows emulator.
Runs in Unix with Wine. See FAQ
Buy Behold. 60 Day Moneyback Guarantee:
Only $40 US
for a lifetime license
Buy Now!

Secure online transaction: Credit card or PayPal,
Alternatively: phone, mail or fax a cheque or moneyorder.


Activation key supplied instantly


People from 21 countries

Australia, Belgium, Canada, Czech Republic, Finland, France, Germany, Greece, Ireland, Luxembourg, the Netherlands, New Zealand, Norway, Singapore, Slovenia, Spain, South Africa, Sweden, Switzerland, the United Kingdom and the United States


have already purchased Behold. And all upgrades are free forever!
Behold Lets You Work With Your Data
Useable Output
Behold's Everything Report presents all your data to you as you want to see it. You can easily reorganize the families any way you want. All indexes are included in the report. People, places and sources are all linked together with a simple click needed for navigation.
Behold has a standard Windows interface that works the way you expect it to. The treeview makes navigation obvious and easy.
Here is what Behold looks like: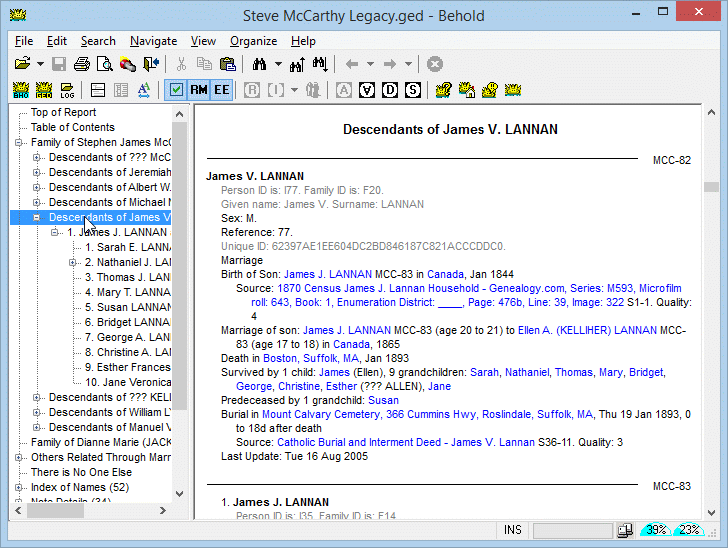 Behold's Everything Report can be exported to rich-text format and loaded into your word processor. It can be exported to html and put on your website. You can even print it to have a hard copy of all your research that you can take with you. It In each case, the output looks just like it does in Behold.
Easy Input - the Way It Should Be
When you're writing an e-mail, do you fill out forms to put the paragraphs and sentences in? What a silly thought.
So why do almost all genealogy programs make you fill out forms and open new windows for notes, sources or pictures? Generate a report to see (some of) your data. See a mistake? Close the report and find the form with that data. Repeat ad nauseum. This is a slow, tedious, and time-wasting process. There must be a better way.
Why not enter your data directly onto the report? See some incorrect data. Just correct it right there.
Using a word processing program is easy. It feels natural and you see what you will get. There are menu items and keyboard shortcuts to help you put your information in and edit it. A genealogy program should do the same.
Report-based data entry is what will set Behold apart.
It is now being worked on and will be included in Version 2 of Behold.
That's Not All
Behold's different emphasis repackages the traditional genealogy program into what it always should have been. It has many special features that are only possible in Behold because of its unique report-first design. These have been included specifically to help you, the genealogist.
To me, entering and documenting your data is the important work that genealogists need to do. Too many genealogy programs are wasting your time getting you to design your sentence structures or format your citations, which is cumbersome and time-consuming and produces less-than-perfect results.
Behold presents your data without making you worry about formatting. You should spend your time recording and working with your sources and your conclusions, and not wasting time figuring how to format it.
Behold is being designed to help you simply and easily document your sources, develop your conclusions and record the reasoning you used.
Click here to find more about what Behold will do for you.
Join Me as I Change the Way Genealogists Work
I've found during my many years doing my family genealogy, that I needed a better program than those out there. Behold is going to be that program for me. And I hope you find it to be one for you as well ... One that can let you see and use all your data at a glance. And one that will soon let you enter all your data effortlessly and quickly.
Behold is still under development. Editing is the next thing coming. There will be a beta release available once it is ready. When Version 2 is released, you will be able to edit your data directly without leaving the Everything Report, and it will become your Word Processor for Genealogy.
These web pages include much additional material about Behold, plus a discussion forum, a feedback form, and a responsive author (me!). I offer an always-updated Future Plans page, outlining the specific things I have on tap for Behold. You can also keep up to date with my Behold Blog, where I share some interesting thoughts and ideas, and I let you know what I'm working on.
Want a free trial of Behold? Click here to go to the Download Page
If you like what I'm doing, and really want to encourage me, then consider purchasing a lifetime license for Behold. It is available now at $40 US.
Ready to buy Behold? Click here to go to the Buy Now Page
Want more info? Check the other pages of this site.
(Use the navigation tabs that are at the top and bottom of every page.)